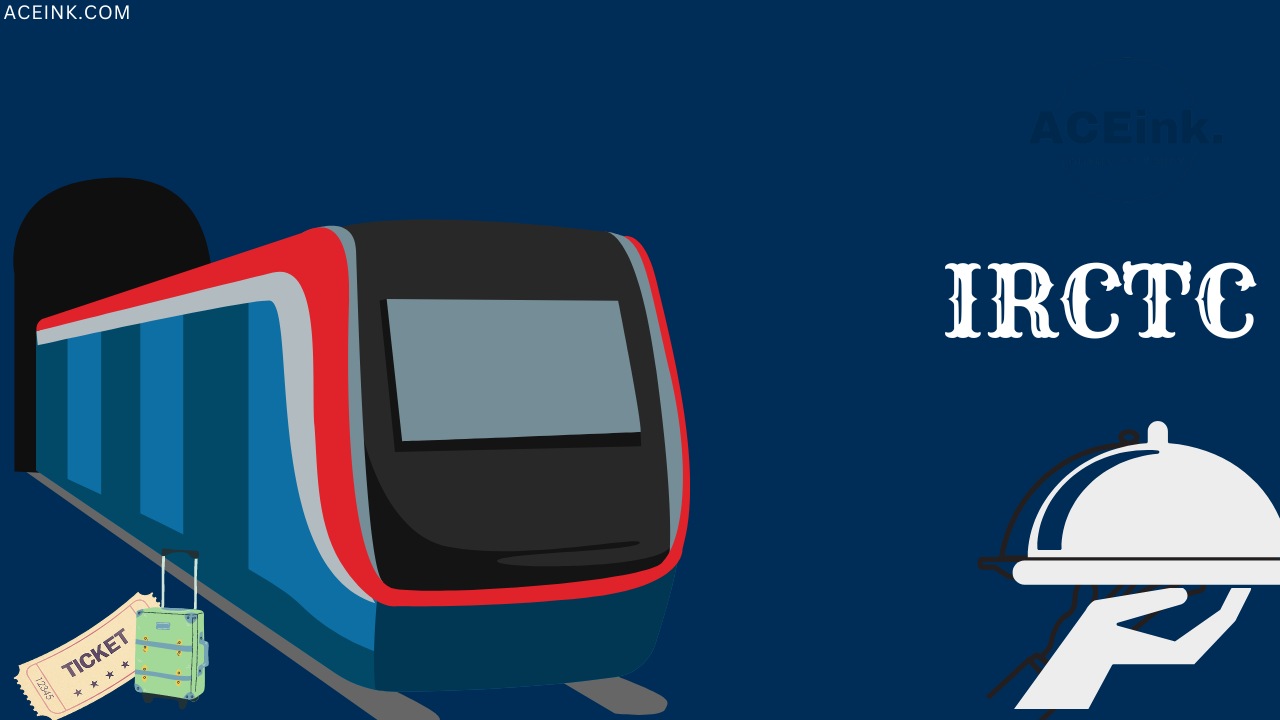 29 May

Can IRCTC Rally Like RVNL After Q4 Results?
Will IRCTC Perform Like RVNL, IRFC, IRCON, and Other Railway Stocks After Robust Numbers


All aboard the express train of success!
Indian Railways Catering and Tourism Corporation (IRCTC) has steered full steam ahead, showcasing exceptional financial results in the fourth quarter of FY23.
With a significant boost in key parameters, IRCTC has not only surpassed expectations but also announced a final dividend for the fiscal year. But if we see the stock performance, it is the most underperforming share of the Railway Sector this year.
Let's dive into the exciting details of IRCTC's Q4FY23 performance and explore the factors contributing to its success and check what the experts are expecting from the share.
Will IRCTC join the rally of the railway sector Stocks like RVNL, IRFC, and IRCON?

More to Read: Why IRCTC Is Not Performing as Compared to Other Railway Stocks?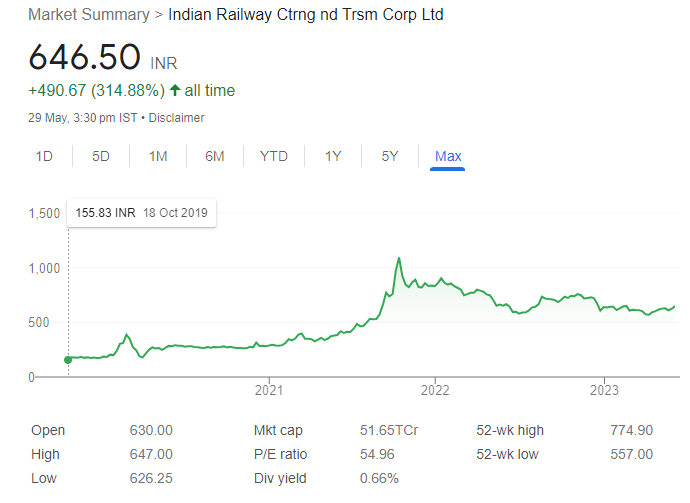 Q4FY23 Performance:
IRCTC recorded double-digit YoY growth in net profit (PAT), revenue from operations, and EBITDA.
Revenue from operations
-surged by 39.7% YoY to ₹965 crore , as opposed to ₹691 crore in Q4FY22.
-rose by 5% from ₹918 crore in Q3FY23.
-EBITDA came in at ₹324.6 crores in Q4FY23, registering a 16.5% YoY increase.
-However, EBITDA margins contracted to 33.6% in Q4FY23, down from 40.3% in Q4FY22.
Net profit
-up 30.4% YoY to ₹278.8 crore, compared to ₹214 crore in the same quarter of the previous year.
-QoQ, net profit grew by 9% from ₹256 crore in the preceding December quarter.
Dividend Declaration:
IRCTC's board recommended a final dividend of ₹2 per share (100%) for FY23.
This is in addition to the interim dividend of ₹3.50 per share declared in February 2023.
Segment-wise Performance:
catering  –  Revenue rose by 49% YoY to ₹396 crore in Q4FY23, compared to ₹266 crore.
Rail Neer -Revenue increased by 33% to ₹73 crore in Q4FY23, up from ₹55 crore in Q4FY22.
Internet Ticketing business saw a marginal increase, reaching ₹295 crore in Q4FY23, compared to ₹293 crore in Q4FY22.
The tourism business experienced significant growth, with revenues more than doubling to ₹138 crore in Q4FY23 from ₹54 crore in Q4FY22.
Full Fiscal Year Performance:
-In FY23, IRCTC achieved a 52% YoY growth in net profit, reaching ₹1,006 crores compared to the previous fiscal year.
-Revenue from operations rose by 88% in FY23 to ₹3,541 crore, compared to ₹1,880 crore in the previous fiscal year.
Overall, IRCTC demonstrated strong performance, reporting growth in key financial indicators, dividend declaration, and segment-wise revenues.
Company Overview:
IRCTC (Indian Railway Catering and Tourism Corporation) is a subsidiary of Indian Railways that handles various aspects of ticketing, catering, and tourism services.
Background:
-IRCTC was incorporated on 27th September 1999 as a public sector undertaking (PSU) under the Ministry of Railways, Government of India.
-It was established to enhance passenger services, including online ticketing, catering, and tourism.
Online Ticketing:
-IRCTC is primarily known for its online ticketing platform, which allows passengers to book train tickets via the Internet.
-The platform offers various features like e-ticketing, Tatkal booking, and the option to check seat availability, train schedules, and fare information.
-It has significantly improved the convenience and efficiency of ticket booking for Indian Railways.
Catering Services:
-It operates a vast network of base kitchens and refreshment rooms across the country.
-IRCTC is responsible for the onboard catering, pantry car services, and food plaza outlets at railway stations.
-It has also introduced e-catering services, enabling passengers to order food of their choice from approved food vendors during train journeys.
Tourism Services:
-IRCTC offers a range of tourism-related services, including tour packages, hotel bookings, and car rentals.
-It provides both domestic and international tour packages, covering popular tourist destinations in India and abroad.
Company's Guidance and Outlook:
Overall margin is expected to stabilize in FY24 with higher contribution from the catering segment in revenue portion.
Tourism business growth is expected to continue, with more trains being put into operation in the next financial year.
The company is coming out of the COVID situation and tourism is improving, with better earning patterns expected in Q4 and the entire financial year ahead.
Revenue Stabilization:
The stabilization of overall margins in FY23-24, with a higher contribution from the catering segment, indicates a positive outlook for IRCTC's revenue.
The catering segment has traditionally been a significant revenue driver for the company.
Tourism Business Growth:
The expectation of continued growth in the tourism business, along with the operation of more trains in the next financial year, suggests potential opportunities for IRCTC.
As tourism improves and more people travel, it can positively impact the company's earnings.
Introduced New Products & Services
IRCTC has been introducing new products and services to enhance its offerings and improve the customer experience. Here are some notable developments:
Pantry Cars and TSP Direction:
IRCTC has awarded contracts for pantry cars in all trains and for Train Side Pantry (TSP) direction where pantry cars are not present. This initiative aims to improve onboard catering services and ensure that passengers have access to quality food during their train journeys.
Bharat Gaurav Series:
IRCTC has launched the Bharat Gaurav series, which involves customized rolling stock (train coaches) specifically designed for the tourism sector. These specially designed coaches provide enhanced comfort, amenities, and facilities for tourists traveling on various tourism-centric routes.
Tie-ups with B2C Partners:
IRCTC is actively working on partnering with business-to-consumer (B2C) partners to expand the number of stations and increase bookings. By collaborating with various entities, IRCTC aims to extend its reach and provide easier access to its services across a wider network.
Booking via WhatsApp:
IRCTC has recently introduced a booking facility through WhatsApp. This feature allows users to book train tickets by sending a message on WhatsApp. While initially focused on ticket booking, IRCTC plans to enhance this service by adding two-way communication functionality, enabling customers to receive updates and information related to their bookings.
These initiatives reflect IRCTC's efforts to innovate and offer new services to meet the evolving needs of passengers. By expanding catering options, customizing rolling stock, expanding partnerships, and introducing convenient booking channels, IRCTC aims to enhance customer satisfaction and provide a more seamless travel experience.

Why Analysts are Bullish On IRCTC in the Long Term

Many Analysts have a positive outlook on IRCTC, highlighting several factors that may support long-term profitability. Here are the key points mentioned:
Increasing Demand for Railway Lines: The anticipated rise in demand for setting up railway lines suggests potential growth opportunities for IRCTC. As new railway lines are established, IRCTC's services and revenue streams can expand accordingly.
Strategic Initiatives: IRCTC's strategic initiatives, such as launching special trains and expanding ticketing services, including online booking for helicopter service to Kedarnath Dham, indicate efforts to diversify its offerings and cater to evolving customer needs. These initiatives may contribute to revenue growth and customer satisfaction.
Recovery in Catering: The expectation of increased license income in catering as it returns to pre-COVID-19 levels implies a potential rebound in this segment. As travel and tourism activities improve, IRCTC's catering services can witness a recovery, supporting its revenue generation.
Tourism Sector Growth: The belief that tourism in India will improve, driven by increased travel and the introduction of new Vande Bharat trains, suggests a positive outlook for IRCTC's tourism-related services. As tourism picks up, IRCTC can benefit from the associated travel and hospitality expenditures.
Revenue from Advertising and License Fees: The growing revenues from advertising and license fees add another potential source of long-term profitability for IRCTC. These income streams can contribute to the company's financial performance and diversify its revenue sources.
The Technicals
From a technical standpoint, IRCTC's stock is displaying some interesting patterns and indicators. The relative strength index (RSI) stands at 55.7, indicating that the stock is currently trading in a neutral zone, neither oversold nor overbought. This suggests a balanced market sentiment among investors.
One important aspect to consider is the stock's beta value of 1.1. With a beta greater than 1, IRCTC's stock exhibits high volatility compared to the overall market. This means that the stock is likely to experience larger price fluctuations, presenting both opportunities and risks for investors.
Analyzing the stock's moving averages, IRCTC is currently trading above the 5-day, 20-day, 50-day, and 100-day moving averages. This indicates short-term and medium-term positive price momentum. However, it is worth noting that the stock is trading below the 200-day moving average, suggesting a potential long-term resistance level.
Investing in IRCTC entails certain risks that investors should consider. Here are some particular risks associated with investing in IRCTC:
Regulatory and Policy Risks:
IRCTC operates in a highly regulated industry under the supervision of the Indian Railways and other relevant authorities. Changes in regulations, policies, or government initiatives can impact IRCTC's operations, pricing, profitability, and growth prospects. Adverse regulatory developments, such as changes in ticketing rules or restrictions on catering services, can affect the company's financial performance.
Macroeconomic Factors:
IRCTC's financial performance is influenced by macroeconomic factors, such as economic growth, inflation, exchange rates, and fuel prices. Economic downturns, high inflation, or currency fluctuations can impact consumer spending and travel patterns, potentially affecting IRCTC's ticket bookings and tourism revenues.
Competitive Landscape:
IRCTC faces competition from other players in the travel, hospitality, and online ticketing sectors. Intense competition can affect IRCTC's market share, pricing power, and profitability. The emergence of new entrants, technological advancements, or changes in consumer preferences could pose challenges to IRCTC's market position.
Operational Risks:
IRCTC's operations involve various risks, including
-technical glitches,
-cyber threats,
-infrastructure maintenance, and service disruptions.
Any significant operational disruptions or failures, such as system outages, security breaches, or accidents, can impact the company's reputation, customer trust, and financial performance.
Dependence on Indian Railways:
IRCTC's business is closely tied to the Indian Railways network. Any disruptions, delays, or accidents within the railway system can affect IRCTC's operations, ticket bookings, and catering services. The company's growth and profitability depend on the overall performance and efficiency of the Indian Railways.
Pandemic and Travel Risks:
IRCTC, like other travel-related companies, is susceptible to risks associated with pandemics, natural disasters, or other events that affect travel demand. Unforeseen circumstances like COVID-19 can significantly impact IRCTC's operations, ticket bookings, and tourism services.
It's important for investors to conduct thorough research, analyze the risk factors, and consider their risk tolerance and investment goals before investing in IRCTC or any other company. Diversification, staying informed about industry developments, and seeking advice from financial professionals can help manage these risks effectively.
Disclaimer: The views and investment tips expressed by investment experts/broking houses/rating agencies are their own and not that of the website or its management. Aceink.com advises users to check with certified experts before taking any investment decisions.