05 Apr

Is Your Money in the Wrong Place? These Dividend Stocks Could Be a Better Move in FY23″
Dividend Stocks: Steady and Reliable Investments
Have you ever heard of Kevin O'Leary?
He's a well-known Canadian businessman and investor who follows a simple investment philosophy. In fact, he only invests in companies that pay dividends and has even started a mutual fund company based on this approach.
Dividend stocks are particularly appealing in high-interest rate environments, where investors may be wary of taking on additional risk in the stock market. In such conditions, dividend-paying companies may offer higher yields than traditional fixed-income investments, such as bank deposits or government bonds.
Moreover, dividend stocks can be a good alternative to long-term savings options such as EPF or PPF, which offer lower returns. By investing in dividend-paying companies, investors can earn regular income while also benefiting from potential capital appreciation.
However, it is important to note that not all dividend stocks are created equal.
Investors must conduct thorough research to identify companies that are financially stable and have a history of consistently paying out dividends. Additionally, diversifying across multiple dividend-paying companies can help to mitigate risk. We have explained all the important factors to be considered while investing in Dividend paying stocks in our previous article, Do read it carefully for a better understanding.
Are High-Dividend Stocks Worth the Risk? A Comprehensive Analysis
While dividend-yielding stocks may not be as exciting as some of the high-growth tech stocks, they offer investors a steady and reliable source of income. In times of market volatility and economic uncertainty, these stocks can be a safe haven for investors seeking stability.
If you're someone who likes the idea of investing in companies that offer regular dividend payouts, then this is for you. Here is a list of some of the highest dividend-paying stocks in India that are consistence in it.
Also Read: Why This Fundamentally Strong EV Stock is on a Bullish Run in a Bear Market?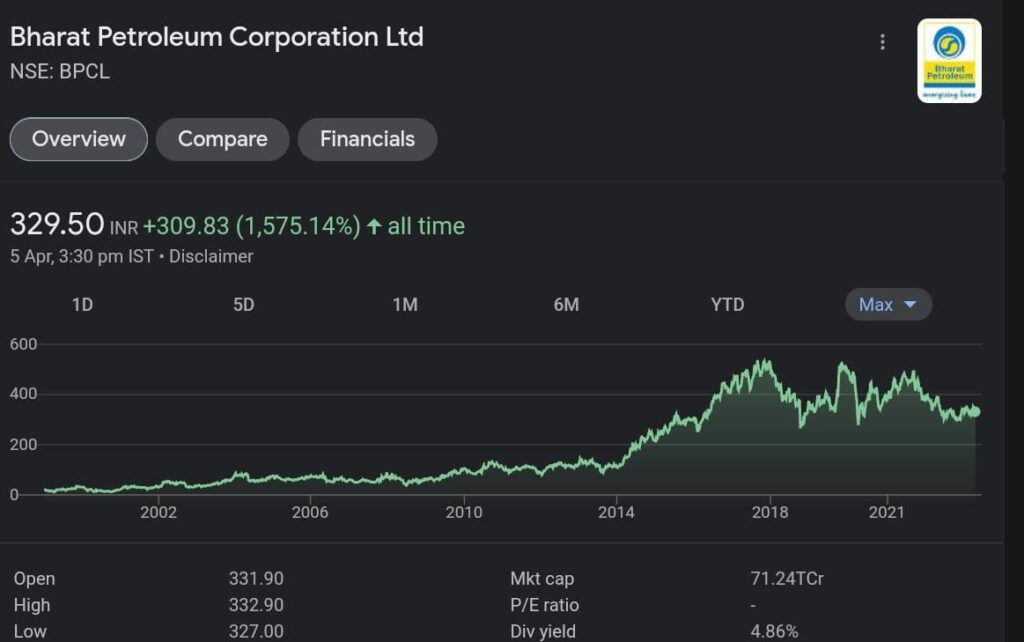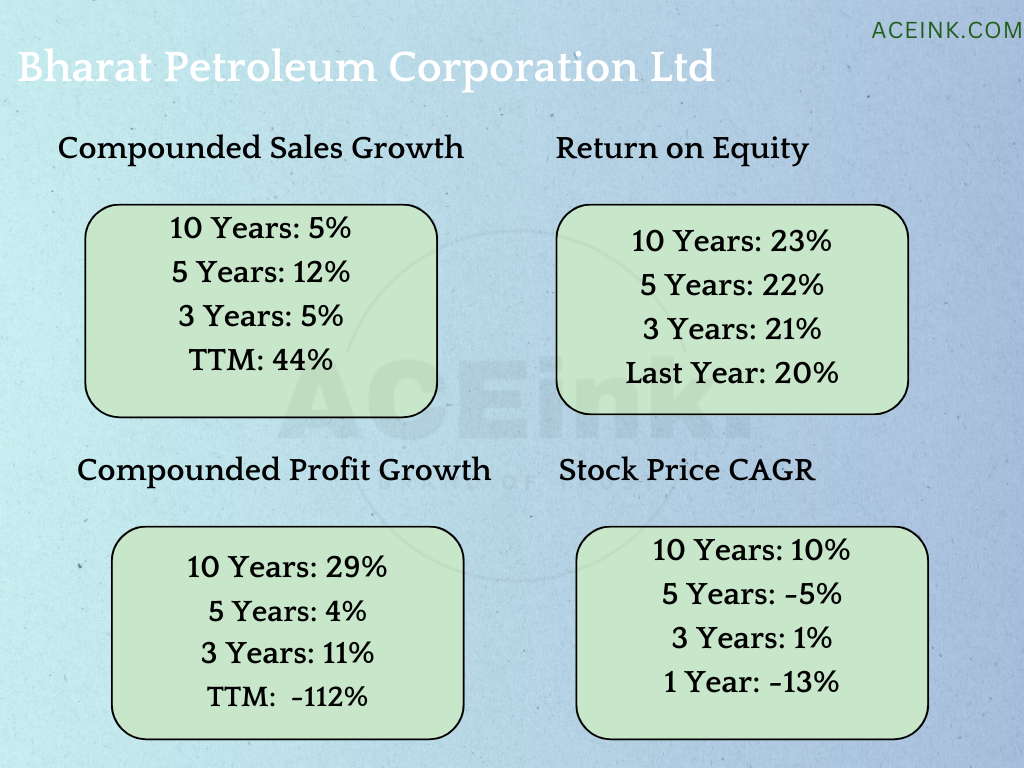 BPCL
Bharat Petroleum Corporation Limited (BPCL) is a state-owned oil and gas company in India that was founded in 1952.
-BPCL is engaged in various business activities, including refining, marketing, and distribution of petroleum products.
-The company operates four refineries in India located in Mumbai, Kochi, Bina, and Numaligarh. These refineries have a combined refining capacity of over 38 million metric tonnes per annum.
-BPCL has a vast network of petrol stations and LPG (liquefied petroleum gas) distributors across the country, with over 18,000 fuel retail outlets and 5,900 LPG distributors.
-The company also has a presence in the upstream oil and gas exploration sector through its subsidiary, Bharat PetroResources Limited.
-BPCL has received several accolades and awards for its outstanding performance and contribution to the Indian economy.
-The company has consistently ranked among the top Fortune 500 companies in India and has won several awards for excellence in areas such as safety, sustainability, and innovation.
With a strong market presence and a customer-centric approach, BPCL continues to be a leading player in India's energy landscape. The company is committed to meeting the energy needs of the country while ensuring sustainable growth and development.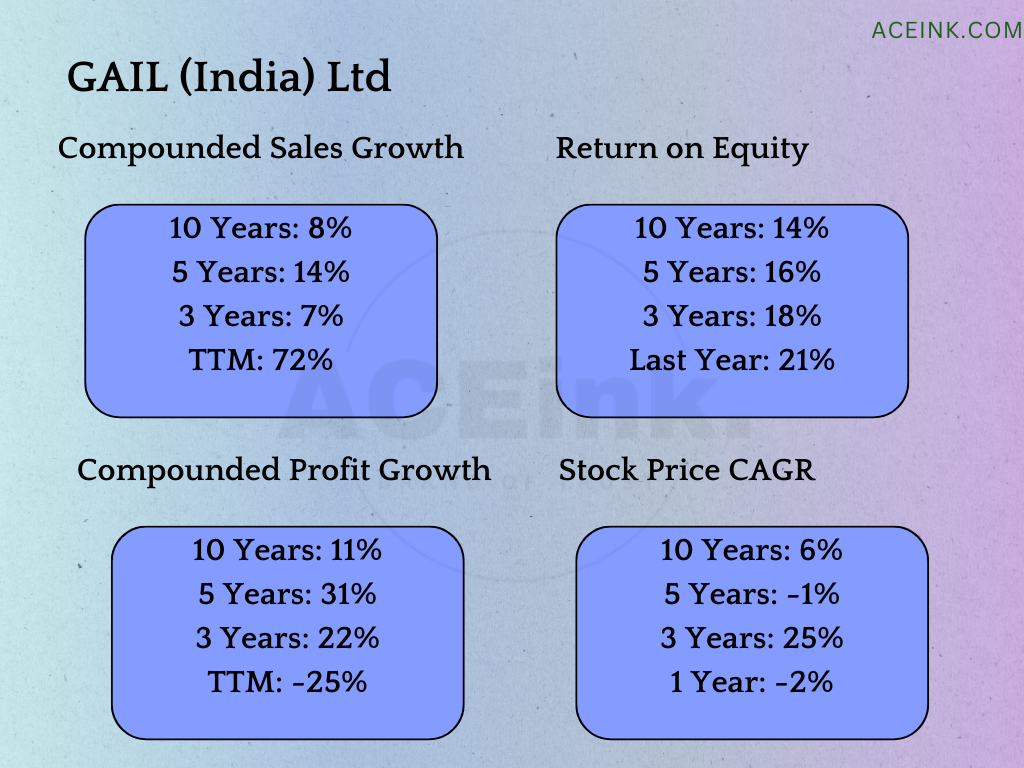 GAIL (India) Limited
GAIL (India) Limited, formerly known as Gas Authority of India Limited, is the largest state-owned natural gas processing and distribution company in India.
-Established in 1984, GAIL is headquartered in New Delhi and has a pan-India presence with a network of pipelines spanning over 16,000 kilometers.
-GAIL's core business includes the processing and distribution of natural gas, the transmission of gas through pipelines, the production of liquid hydrocarbons and petrochemicals, and the exploration and production of gas.
-The company operates a number of gas-based petrochemical plants, LPG plants, and gas processing units, and has a significant presence in the upstream segment of the gas value chain.
-GAIL has partnerships and joint ventures with several international companies, including Shell, Total, and Mitsubishi, to expand its global reach and enhance its capabilities in the gas and petrochemicals sector.
GAIL is playing a crucial role in India's energy security and has been a key enabler in the country's transition towards a gas-based economy.
Indian Oil Corporation Limited (IOC)
Indian Oil Corporation Limited (IOC) is the largest oil refining and marketing company in India.
-Established in 1959, IOC is a state-owned enterprise headquartered in New Delhi, India.
-The company operates the largest network of fuel stations in India, with over 32,000 retail outlets across the country.
-IOC is primarily engaged in refining, marketing, and distributing petroleum products, including diesel, petrol, LPG, aviation turbine fuel, lubricants, and bitumen.
-The company owns and operates 11 refineries in India, with a combined refining capacity of over 80 million metric tonnes per annum.
-IOC also has a significant presence in petrochemicals, with four major petrochemical plants in the country.
-In addition to its domestic operations, IOC has a global presence, with subsidiaries and joint ventures in Sri Lanka, Mauritius, the United Arab Emirates, and the United States.
-The company is committed to sustainability and has invested in renewable energy sources such as solar and wind power.
With a workforce of over 33,000 employees, IOC is one of the largest employers in the country.
REC Limited
REC Limited (formerly known as Rural Electrification Corporation Limited) is a public sector enterprise under the Ministry of Power, Government of India, and is a Navratna company.
-REC was established in 1969 with the objective of financing rural electrification projects in India. Today, it has diversified its portfolio and provides financial assistance to power sector entities for various projects, including renewable energy and energy efficiency.
-The company offers a range of financial products and services, including loans, project financing, bridge financing, and advisory services. It also provides technical assistance and capacity-building support to its clients.
-REC has a pan-India presence with a network of 18 offices and has financed over 1,000 power projects with a cumulative sanctioned amount of more than INR 10 lakh crore.
-REC is committed to sustainable development and has implemented several initiatives to promote clean energy and reduce its carbon footprint. It has also launched various social initiatives in areas such as education, healthcare, and rural development.
-REC has received several awards and recognitions for its performance and contribution to the power sector. It was also awarded the 'Best Navratna' award by the Ministry of Heavy Industries and Public Enterprises in 2021.
REC is playing a crucial role in India's vision to achieve universal access to electricity and to increase the share of renewable energy in the country's energy mix.
——————–
This electric vehicle EV stock is on the rise to reach an all-time high (ATH) in the current falling market. Here is the reason why…Read More
"Why This Fundamentally Strong EV Stock is on a Bullish Run in a Bear Market?"
Disclaimer: The views and investment tips expressed by investment experts/broking houses/rating agencies are their own and not that of the website or its management. Aceink.com advises users to check with certified experts before taking any investment decisions.