12 Apr

TCS's Q4 performance: 10 things investors need to know
TCS misses earnings estimates in Q4 – what's next for the company?

India's largest software services exporter, Tata Consultancy Services (TCS), announced its Q4 and FY23 results, which showed a YoY rise in revenue and profits but it's a miss on Experts' estimations.
Although the company's margins have been unable to hold steady, there is a significant drop of around 200 basis points projected for FY23. The quarter has seen restrained growth, with the BFSI sector only reporting single-digit growth and ending the year below the anticipated levels.
Nonetheless, the order book has reached an all-time high of $10 billion, suggesting a positive outlook for IT industry expansion.
With attrition rates declining substantially, operational costs optimized, and the order book remaining robust, it remains to be seen how FY24 will unfold.
Here are some key points from the company's latest report:
Also Read: Why This Fundamentally Strong EV Stock is on a Bullish Run in a Bear Market?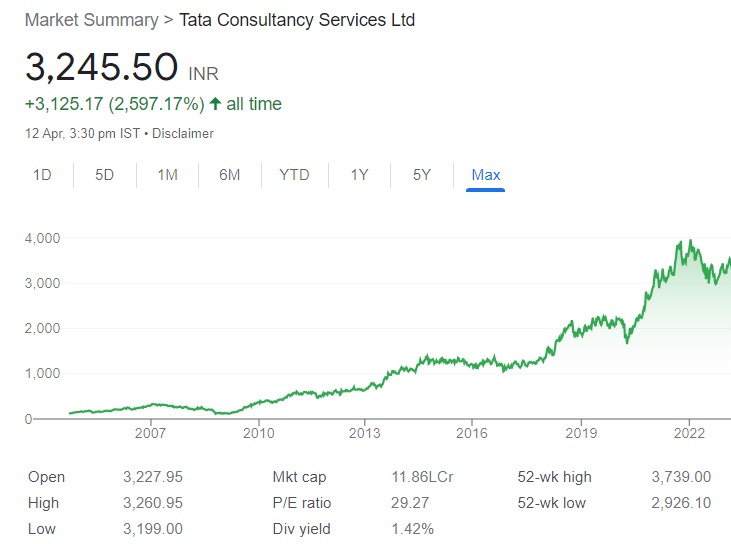 TCS (Tata Consultancy Services):
-TCS is a leading global IT services, consulting, and business solutions organization based in India.
-It was founded in 1968 and is a part of the Tata Group, one of India's largest conglomerates.
-TCS operates in over 46 countries and has a diverse portfolio of services ranging from application development to cybersecurity to cloud solutions.
-It is known for its strong commitment to innovation and has been recognized as one of the world's most ethical companies by Ethisphere for the past ten consecutive years.
Clients Base
-The company serves some of the biggest conglomerates in the world like
-Google, Amazon, Azure, OpenStack, Adobe, Intel, Bosch, IBM, Apple, Oracle, Symantec, etc.
-Around 10 cr USD is paid by 50 clients
-Around 5 cr USD is paid by 100 clients
Operating and net margins:
-The IT major's operating margin stood at 24.5%, and its
-The net margin was at 19.3%.
Total Contract Value(TCV) and order book:
-TCS's Q4 TCV came in at $10 billion with an all-time high number of large deals,
-Taking the FY23 order book TCV at $34.1 billion.
-TCS CEO and MD Rajesh Gopinathan commented that the strength of the order book demonstrates the resilience of demand for the company's services and gives visibility for growth in the medium term.
Management Commentary:
According to TCS's CEO designate, K Krithivasan, the current macroeconomic conditions have led to clients exercising caution and postponing their spending. Despite this uncertainty in the short term, the demand for IT services remains robust.
TCS also noted that the demand outlook differs across various markets, with the North American region experiencing near-term weakness. In response to the challenging environment, clients are carefully managing their expenses by focusing on cost optimization, vendor consolidation, and automation efforts, as stated in the company's statement.
Vertical growth:
Retail and CPG +13%
Life Sciences and Healthcare +12.3%
Technology & Services + 9.2%,
BFSI + 9.1%,
Manufacturing + 9.1%
Communications & Media + 5.3%.
Other verticals grew in the single digits.
Geographical growth:
UK  +17%.
North America +9.6%,
Europe +8.4%.
Transition year:
TCS stated that FY23 was a year of transition, as supply-side challenges abated while pandemic-depressed travel and discretionary spending normalized. The company successfully delivered transformation programs of varying sizes and scales during the year.
Attrition rate:
-The IT major's attrition rate eased during the quarter
-With IT services attrition on an LTM basis continuing to trend down and was at 20.1%.
-TCS added 821 employees during the quarter
-Taking its total workforce strength to 614,795.
Talent development:
-TCS doubled down on organic talent development
-Obtaining over 53,000 cloud certifications during the year
-Bringing the total to over 110,000 employees certified on hyper scaler platforms
-Making it one of the top two partners for the largest cloud providers.
Dividend declared:
The board of directors recommended a final dividend of Rs 24 per share, which will be paid on the fourth day from the conclusion of the 28th Annual General Meeting, subject to the approval of the shareholders.
Analyst takes:
The numbers went below Street estimates and left analysts disappointed.
The North American business remains weak, which is visible from dismal net additions in the workforce. The difficult macroeconomic environment is clearly evident from the cautious commentary of the management, and it would take a few quarters before we see normalization in the overall business performance, according to Manish Chowdhury, Head of Research at Stoxbox.
In conclusion, TCS's Q4 and FY23 results showed a YoY rise in revenue and profits, and the company remains optimistic about its growth prospects in the medium term, despite the challenging macroeconomic environment.
However, the numbers disappointed analysts, and TCS faces the challenge of improving its North American business and dealing with the difficult operating environment.
——————-
This electric vehicle EV stock is on the rise to reach an all-time high (ATH) in the current falling market. Here is the reason why…Read More
"Why This Fundamentally Strong EV Stock is on a Bullish Run in a Bear Market?"


Disclaimer: The views and investment tips expressed by investment experts/broking houses/rating agencies are their own and not that of the website or its management. Aceink.com advises users to check with certified experts before taking any investment decisions.