03 Mar

Will Vodafone shut down or survive in India?
Will Vodafone shut down or survive in India?
"VI(We) shall overcome!"
This could very well be the mantra of Vodafone Idea (Vi) over the last few years.
Once the strongest Telecom network in India, Vodafone has been hit hard by losses. Is this the end of the road for Vi? Can it survive this year?
Let's take a look at some of the key points that will determine its fate.
The Company
In Aug 2018, Vodafone India Ltd and Vodafone Mobile Services Ltd announced a merger with Idea Cellular to survive in the Telecom sector.
Two years after, the new company formed merging both brands of Vodafone and Idea into a new single entity forming 'VI' in September 2020.
The company issued equity shares of Rs 4,375 crores to the Vodafone group for 45.2% share and Aditya Birla Group held a 26% share in it.
VI has the largest spectrum holdings in India with 1,850 MHz of spectrum across 22 circles. It has wide coverage across 487,000 villages.
Post-merger, VI focused on integration and consolidated spectrum and radio access network (RAS) in 18 out of the 22 service areas and 92% of total districts have been consolidated.
Lagging behind in the Race
India's second-largest telecom operator, Airtel, is launching 5G services in the country and has set up 3,293 5G base stations in 21 cities, with more circles to come in the near future. Meanwhile, Reliance Jio has set up 17,687 5G base stations in 26 cities, 33 districts of Gujarat and across India, making it the leader in 5G base station setup. Vodafone-Idea, on the other hand, is yet to install any 5G base station.
The 5G expansion plans of Airtel and Reliance Jio may create issues for India's third-largest telecom operator Vodafone-Idea, as the company may be at risk of losing more subscribers due to its failure to introduce 5G services as the 5G networks promise to deliver speeds that are 10 times faster than 4G networks.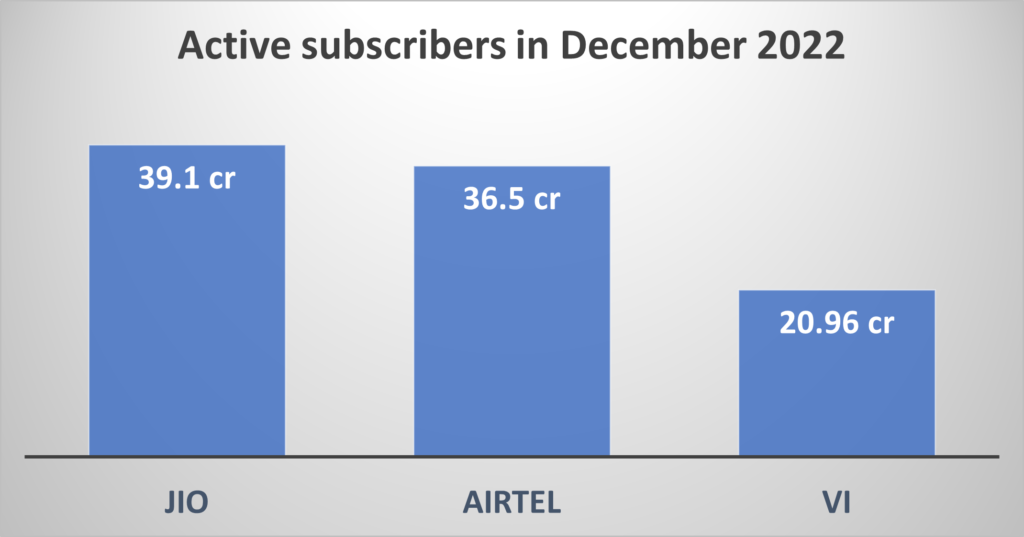 The Slipping Financials
Vodafone Idea recorded a loss of Rs 7,595 crore in the quarter ending December 2022 against Rs 7,226 crore in the same period a year ago, slipping further.
However, in a positive development, VI has an increase in average revenue per user (ARPU) from Rs 131 to Rs135 Quarter on Quarter (QoQ) basis and 17.4% Year on Year (YoY) from Rs 115 last December. Also, its revenue rose 9% to Rs 10,621 crore in Q3FY23 as compared to Rs 9,717 crore in Q3FY22.
The Lifeline
As per the latest results, VI has a huge debt of Rs 2.2 lakh crore. In a bid to save the company, the government recently acquired a stake of 33.44% in VI by converting the AGR dues interest debt into equity.
(The whole AGR saga and other details are explained in the video)
This makes the government the largest stakeholder in the company. To add to this, the government also insisted that the promoters, Vodafone Group and Aditya Birla Group, invest in the company as well. According to media reports, Aditya Birla Group has indicated an interest in making some investment, although the exact details of the investment remain unclear.
The government's commitment to the company certainly gives it much-needed breathing space, however, it is still not enough to make Vodafone Idea competitive in the market.
However, support from the government may help the company in acquiring further investments and closing vendor payments. Vodafone-Idea has big payments due with the companies such as ATC, Ericsson, Nokia, and Indus Towers which also threatened to stop providing tower-sharing services to VI, earlier and anyhow convinced to receive funds in parts and continue services.
In a recent development, another tower company vendor American Tower Corp (ATC), has agreed to be paid off by non-cash option. Rs1,600-crore optionally convertible debentures (OCDs) will be issued to ATC, for 3.18% shareholding in the telco, assuming full conversion of the OCDs. This will surely reduce some cash liability from the books of Vi But as far as a strong balance sheet is concerned….
Dilli abhi door hai….
🔍 One liner: This year is going to be a make-or-break year for Vi, It must make a strong comeback with a new 5G business plan or there is a real possibility that it might become a thing of the past.
💡 Quick Question: Will this lifeline help Vi to rise or is this just a temporary relief in Vi's ongoing story of struggle?


Disclaimer: The views and investment tips expressed by investment experts/broking houses/rating agencies are their own and not that of the website or its management. Aceink.com advises users to check with certified experts before taking any investment decisions.